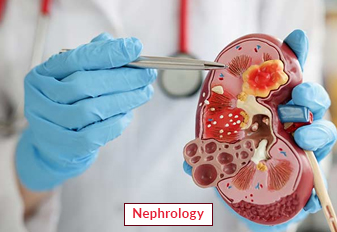 Nephrology encompasses a range of illnesses related to the kidney. In addition to studying how the nervous system should function normally, neurology also treats diseases, anomalies, and damage to various nervous system components. Nephrology also examines systemic disorders that originate from kidney disease, such as renal osteodystrophy and hypertension, as well as systemic conditions that affect the kidneys, such as diabetes and autoimmune disease.
Book an Appointment
About Nephrology
Nephrology deals with the identification and management of kidney disorders, such as hypertension and electrolyte imbalances, as well as the treatment of individuals in need of renal replacement therapy, such as dialysis and kidney transplant recipients. Following a urinalysis, patients are referred to nephrology specialists for a variety of reasons, including acute kidney injury, chronic kidney disease, kidney stones, hematuria, proteinuria, hypertension, and acid/base or electrolyte imbalances.
The nervous system has two major divisions:
·

The central nervous system, which includes the brain and spinal cord

·

The peripheral nervous system includes the nerves and sensory organs found outside of the central nervous system.
Nephrologists can undertake various procedures such as kidney biopsy, dialysis access insertion (including tunneled, temporary, and peritoneal dialysis access lines), fistula management (including surgical and angiographic fistulograms and plasties), and bone biopsy. Bone biopsies are becoming uncommon.
Procedure of Nephrology
Nephrology treatments might include blood products, medicines, renal replacement therapy (dialysis or kidney transplants), surgical interventions (urology, vascular, or surgical operations), and plasma exchange. Nephrology places a strong emphasis on advanced care planning, health education, and psychological support because kidney issues can have a major impact on life quality and duration. Immunosuppression is a possible treatment for inflammatory and auto-immune kidney diseases, such as transplant rejection and vasculitis. Prednisone, mycophenolate, cyclophosphamide, ciclosporin, tacrolimus, everolimus, thymoglobulin, and sirolimus are among the frequently used medications.
Nephrologists frequently do imaging studies, kidney function tests, dialysis, kidney biopsies, kidney transplant treatment, and other operations and tests. Infections (hepatitis B, hepatitis C), autoimmune diseases (systemic lupus erythematosus, ANCA vasculitis), paraproteinemias (amyloidosis, multiple myeloma), and metabolic diseases (diabetes, cystinosis), as well as infections (hepatitis B, hepatitis C), can all be found or linked to kidney failure through more specialized tests.
Require Assistance?
Get A Quick Callback From Our Healthcare Experts