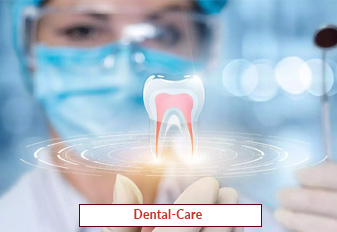 Dental Care: Dental care is a vital branch of healthcare that concentrates on preserving and advancing oral health. It includes a variety of techniques and methods intended to prevent, identify, and treat diseases of the teeth, gums, and entire oral cavity.
Book an Appointment
About Dental Care
Dental care is a comprehensive term that encompasses a variety of practices and procedures designed to maintain oral health and address dental issues.
It involves both professional interventions by dental healthcare providers and personal habits individuals adopt to prevent problems.
Procedure of Dental Care
Dental Check-Up: Regular examination of teeth, gums, and oral tissues by a dentist.

Dental Cleanings: Removal of plaque and tartar, polishing, and flossing.

Fillings: Treatment for cavities using materials like resin or porcelain.

Orthodontic Treatment: Aligning misaligned teeth with braces or aligners.

Dental Implants: Replacement of missing teeth with artificial tooth roots and crowns.