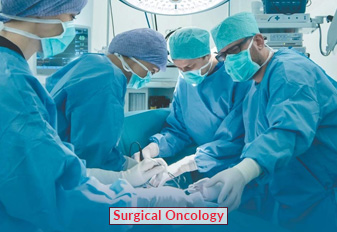 A subspecialty of surgery known as surgical oncology is dedicated to the surgical treatment of tumors, particularly malignant (cancerous) tumors.
The GMC (General Medical Council) does not recognise surgical oncology as a specialty, despite the fact that the term is widely used.
Rather, it is a term that encompasses a number of disciplines across several specialties. For instance, a gynecologic oncologist and an otolaryngologist with a subspecialty interest in the surgical treatment of head and neck cancer could both be considered specialists in surgical oncology.
Book an Appointment
About Surgical Oncology
A team of specialists, including surgical oncologists, physician assistants, advanced practice and registered nurses, and auxiliary team members, make up the surgical oncology field. While surgery is frequently the first line of treatment for many endocrine cancers, it is frequently combined with additional treatment techniques such as chemotherapy and radiation therapy. Teams from surgical oncology clinics can handle both inpatient and outpatient operations.
The use of surgery to treat cancer is known as surgical oncology. Tumors containing cancer cells are surgically removed. Surgery can be performed alone or in conjunction with other treatments to treat cancer.
Cancer diagnosis is aided by surgery.
Cancer Staging.
Consider any other treatments you might require.
Procedure of Surgical Oncology
The oncological surgery has different stages, and for different purposes, one has to undergo the surgery.
Staging: The goal of staging surgery is to determine the tumor's size, if it has spread, and if so, where. The doctor may take a sample or decide to remove the entire tumor. They might also extract several lymph nodes close to the cancer to check for the spread of the disease.
Debulking: Debulking is a surgical procedure that only eliminates a portion of a tumor. The entire tumor might not always be possible to be removed by your doctor. It might harm other bodily components or it might be excessively big.
Reconstructive Surgery: The course of cancer treatment may alter your physical appearance or functioning. The consequences of cancer treatment can be mitigated by reconstructive surgery. Reconstructive surgery may occasionally be performed along with tumor removal.