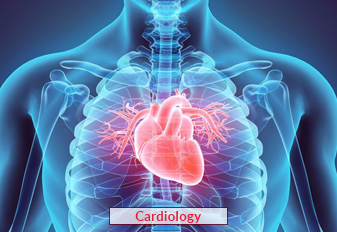 The medical specialty of cardiology focuses on the analysis and management of conditions affecting the cardiovascular system, particularly the heart, veins, and arteries.
Cardiologists, who are medical professionals with a focus on cardiology, are in charge of managing various heart disorders medically. They undertake interventional procedures, such as angioplasty, and carry out and interpret diagnostic testing.
Book an Appointment
About Cardiology
Internal medicine is regarded as a subspecialty that focuses on the diagnosis and management of cardiovascular disorders, which can vary from congenital defects to heart diseases such congestive heart failure and coronary artery disease.
Cardiology is a branch of medicine that deals with and studies a variety of circulatory system problems. Among them are acute coronary syndrome, which encompasses the broad range of myocardial infarction symptoms.
Atherosclerosis, coronary heart disease and restenosis are other common disorders. Broader categories of disorders in the field of cardiology include cardiac arrest.
Procedure of Cardiology
Surgery for the heart or the circulatory system is one way to address cardiac conditions. When no other medication can address the heart condition, it is the only option.
Angioplasty & Stent Placement: Coronary angioplasty is a cardiac procedure that aids in clearing blocked heart arteries. The physician opens the constricted artery by inserting a tiny balloon catheter through it.
Heart Bypass Surgery: Heart bypass surgery, also known as coronary bypass surgery, helps to reroute blood around a heart artery that is clogged.
Heart Transplant Surgery: An unhealthy donor heart is removed during heart transplant surgery and replaced with a healthy one.
Pediatric Cardiac Surgery: Pediatric cardiac surgery is carried out by a medical professional to treat congenital heart abnormalities or other heart conditions.