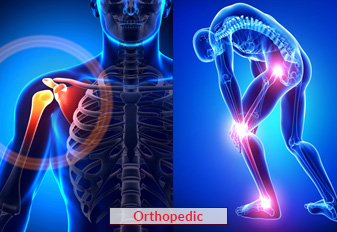 Orthopedics is a medical specialty involving the treatment of the musculoskeletal system is the main emphasis of the. Muscles, bones, joints, ligaments, and tendons make up this system.
Orthopedic disorders can be treated surgically and non-surgically using drugs, physical therapy, exercise, alternative therapies, or a variety of surgical techniques, some of which are minimally invasive and hence less stressful to the body than traditional open surgery.
Book an Appointment
About Orthopedic
Orthopedic disorders cover vast regions in the body. An orthopedist offers vast treatments for dislodged joints or bones.
Wrists: The most common wrist surgeries are for the release of carpal tunnel or the fracture of the distal radius.
Ankles: Fractures of the ankle are common sports injuries. They are also common workplace injuries on sites where workers can fall from considerable heights or are exposed to trip hazards.
Hips: The most common hip procedures are the repair of the femoral neck, a trochanteric fracture or the replacement of the hip joint with a prosthetic.
Spine: The most common spinal operations are laminectomies, spinal fusions and intervertebral disc operations.
Shoulders: Arthroscopic surgery can be effective to repair the rotator cuff, decompress the shoulder or excise the distal clavicle. For more information on shoulder injuries, look here.
Knees: Procedures to repair the MCL and ACL are among the most common knee procedures. Also common is the total replacement of the knee.
Procedure of Orthopedic
Any procedure carried out on the musculoskeletal system is considered an orthopedic surgery. Your bones, muscles, ligaments, joints, and tendons make up this system. The three forms of orthopedic surgery are as follows.
Nowadays, minimally invasive arthroscopic surgeries that promise speedier recovery periods and less discomfort are competing with traditional procedures.
Joint Replacement Procedures: This most common orthopedic surgery, wherein knee and hip joint replacements are the majorly treated. These operations are among the most popular orthopedic treatments and replace a damaged joint with a prosthetic.
Revision Joint Surgery: It can be required to remove an old implant and place a new one if it has failed. When a patient has a faulty implant or an older implant has failed, revision operations are frequently necessary.
Debridement: When the bones are outgrown sometimes or are hampering regular activities, the bone is removed.
Internal Fixation of Bones: This kind of surgery joins broken pieces of bone and secures them with pins, screws, or plates so that they can recover.
Osteotomy: This kind of surgery is required for children who have bone deformities in order to assist rectify the deformity and ensure proper bone growth.