Biologic Response Modifiers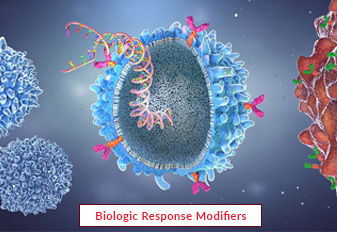 Biologic Response Modifiers, also known as biologics, are a class of drugs that harness the body's immune system to treat various diseases, such as autoimmune disorders and certain types of cancer. These therapeutic agents are typically derived from living organisms and target specific molecular pathways, providing effective and targeted treatments.
Book an Appointment
About Biologic Response Modifiers
Biologic Response Modifiers (Biologics) are cutting-edge immunotherapy drugs that harness the body's immune system to combat diseases like autoimmune disorders and certain cancers. These advanced therapies are derived from living organisms and work by targeting specific molecular pathways, offering more precise and effective treatments. Unlike traditional drugs, biologics offer personalized approaches to patient care, leading to improved outcomes and quality of life. As ongoing research expands their applications, biologics continue to revolutionize modern medicine, providing hope for patients facing challenging medical conditions.
Procedure of Biologic Response Modifiers
Identification of Target: Researchers identify specific molecular targets associated with the disease, such as overactive immune responses in autoimmune conditions or cancer cells.

Biologic Development: Using living organisms, biologics are engineered to interact with the identified targets, modulating the immune response or directly attacking cancer cells.

Preclinical Testing: Before human trials, extensive laboratory and animal testing assesses the safety and efficacy of the biologics.

Clinical Trials: Biologics undergo rigorous testing in human clinical trials to evaluate their effectiveness, dosage, and potential side effects.

FDA Approval: After successful clinical trials, regulatory bodies like the FDA evaluate the data for safety and efficacy before approving the biologic for medical use.